GPM Exclusive: Top 10 new most shocking celebrity marriage crashes and why they crashed (Photos)
With each passing day, it is becoming apparent that either by design or fate, celebrities are finding it difficult to sustain their marriages. There is no gain saying it, carcasses of failed marriages liter the entertainment industry and this is becoming bewildering. Today, Goldenpearlmedia brings you the most shocking celebrity marriage crashes with the latest, that of 38-year-old actress, Mercy Aigbe and her 50-year-old husband, Lanre Gentry.
--------------------------------------------------------------------------------------------------

Mercy Aigbe and Lanre Gentry
The ugly drama started on Friday, April 28, when Mercy Aigbe published a post on her Instagram page calling on Nigerians to 'say no' to domestic violence.
At almost the same time, her hotelier husband, Mr. Lanre Gentry shared a post (already deleted) that read 'Say no to promiscuous women.'
It didn't take her fans time to deduce that something was wrong and by the end of the day, photos of the actress, badly bruised and battered surfaced online with claims that she was a victim of domestic violence from her husband who accused her of engaging in extra-marital affairs.
While other sources close to the actress claimed that Mercy's husband turned his back to their marriage after he allegedly kicked off an affair with another woman called, Opemititi. An allegation, Gentry vehemently denied, appealing that the actress was only trying to paint him black to promote her new movie entitled 'Victims'.
Latest reports also claim that based on the development, Mr. Gentry is in trouble with the Lagos State Government after Mercy dragged him to the state's Ministry of Women Affairs for allegedly assaulting her physically. Investigations into the Gentry's family issue has reportedly begun.
Despite his repeated denials, the Lagos Police spokesman, Olarinde Famous-Cole told Inside Nollywood that a case of assault and battery was reported by Mercy against Gentry at the Area F Police Command, Ikeja on April 15, adding that the matter is being investigated by the police.
Meanwhile, before Mercy Aigbe, Lanre Gentry was formerly married to another Nollywood actress, Bimbo Akinsanya. After Bimbo was robbed of her marriage, she has since moved on with her life. She later remarried to Ayoola Adewale, in June 2015.
Lilian Esoro and Ubi Franklin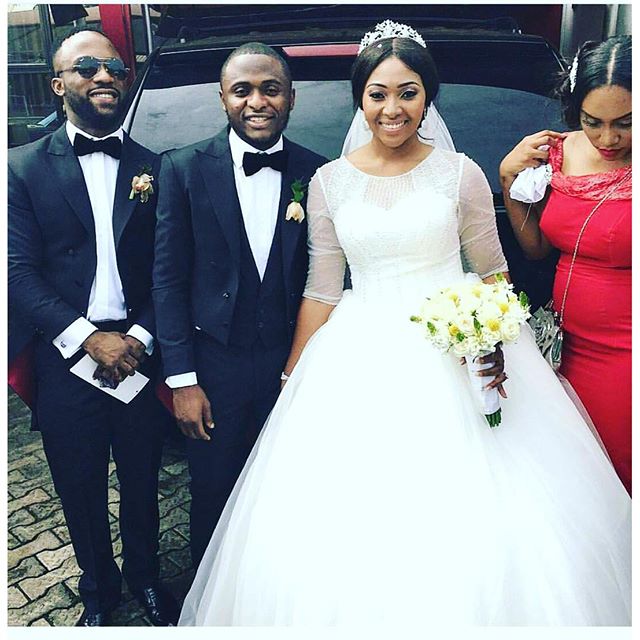 The celebrity couple had issues with their marriage long before it was formalised two years ago. The foundation of the union of the actress, Lilian Esoro and Ubi Franklin was shaken just after they announced their engagement. However, the couple scaled through that and had an enormous wedding but couldn't live happily ever after. The speculations about their marriage crash started late in 2016 and gained attention after the music boss celebrated their first wedding anniversary in November of same year but the actress refused to acknowledge but instead wrote about her beauty regimen.
It was later revealed that their marriage crashed weeks after the birth of their baby boy, Jayden. However, the real cause of their marriage crash hasn't been fully ascertained. Some say it is infidelity on the part of the actress while others rumoured that Ubi s a woman beater.
Tonto Dikeh and Churchill
Tonto Dike's marriage to Churchill Olakunle Oladunni came to a sudden halt at the tail end of 2016. Since then, the actress has been lamenting and sharing photos and videos of abuses she allegedly suffered the hands of her estranged husband. She made several allegations which portrayed her husband as a woman beater, a liar and a fraudster who also infected her with STDs
In a tell-it-all interview, the actress alleged that her husband also cheated on her with a fellow actress, Rosy Meurer. On the other hand, Mr. Churchill accused Tonto of pushing his mother down, after she caught her smoking and taking of hard drugs while breastfeeding their son.
Emeka Ike and Suzanna Emma
Few weeks ago, Emeka Ike officially returned to the league of eligible bachelors after his 17-year-old marriage to Suzanna Emma was dissolved by a Lagos Customary Court. His embattled wife and mother of his four children, Ms Emma, had in a suit complained to the court about his incessant beating, molestation and torture. During the court proceedings, Ike was reported to have knelt down before the court to beg his wife for forgiveness and promised to turn a new leaf but his pleas could not save the already troubled union. The judge, however, severed the union and granted the custody of the four children to Ike while their mother should have unhindered access to them.
Ibinabo Fiberesima and Uche Egbuka
During Ibinabo Fiberesima's last birthday on January 13, 2017, she broke the sad news that her two-year old marriage to Uche Egbuka has ended.
Revealing how it happened, the mother of three thanked everybody for their support and love.
Part of the revelation read: "Last year in particular has severally presented survival as a questionable option. Giving me struggles that seemed impossible to deal with, fading my strength to keep going by the minute feeding my fears and insecurities with worries that come to steal joy.
"From the shock of lumps in the breast to surgeries fighting for my life, and the pain of a dissolution of a bond I hoped to keep with a life time partner, and the re-emergence of singleness. From the tension of awaiting a judge's pronouncement to the horror of walking into prison over a cross I accidentally acquired and carried for so long."
Prince Eke and Muma Gee
It all started like a script from a Nollywood home video when Prince Eke in December 2016, shocked many by calling out his wife and mother of his kids, singer, Muma Gee, on Instagram for abandoning her family, alleging marital infidelity. Eke, also went ahead to add to his Instagram profile,
In line with his actions, his estranged wife opened up on constant domestic violence she was experiencing and officially filed for divorce.
Said Muma Gee: "I gave the marriage all my life, all my time but if the persons involved are restless a bit, you can't be in control," she said in an interview with The Sun Newspapers.
According to her publicist, Don Saint, Muma Gee had decided not to go public or share messy details of their union. But it became necessary that she had to clear the air as most people felt that her husband was the victim and was saying the truth.
Tiwa and Tee Billz
On Monday, April 28, 2016, Nigerians woke up to the drama on Tee Billz's Instagram wall as he x-rayed his marriage to Tiwa Savage making statements that the marriage had gone south accussing the songstress of infidelity.
While Nigerians were trying to assimilate what was going on, news of Tee Billz attempted suicide hit the town before he was rescued by Peter Okoye and Banky W.
Tiwa and Tee Billz got married at a well-attended destination wedding in Dubai on April 26, 2014.
Caroline Ekanem and Musa Danjuma
The marriage of actress, Caroline Ekanem and billionaire businessman, Musa Danjuma is over. The beautiful mother of three has moved on as a result of alleged regular battering by her husband.
Caroline, who had in the past refuted claims of battery obviously couldn't continue suffering in silence hence, he had to run for dear life. She has also deleted all the photos of Musa Danjuma from her Instagram account and shared an image of a broken heart which she captioned 'no regrets' among other messages.
Mimi Orjiekwe and Charles Billion
The young marriage of the two fast-rising movie personalities has since hit the brick wall. In July 2015, the estranged couple had an elaborate traditional marriage but the union did not stand the test of time. Few weeks ago, Ms Orjiekwe had a baby girl named Jasmine in the US and has been gushing over her new mother status but the same can't be said of Billion who only reluctantly acknowledged the birth of Jasmine on social media three days after she was born.
-----------------------------------------------------------------------------------------------