Ik Ogbonna's wife, Sonia confirms Igbo men are the best lovers, as she expects baby number 2 (Photos)
Sonia Morales, the sexy Columbian who is married to Nollywood actor and model, IK Ogbonna is expecting their baby number two. The light skinned self acclaimed relationship counselor, flaunted a bikini photo on her Instagram page, revealing she is expecting another child for the Abia State born movie star
--------------------------------------------------------------------------------------------------


It would be recalled that In an earlier interview with Goldenpearlmedia, Sonia had gushed about her marital life so far.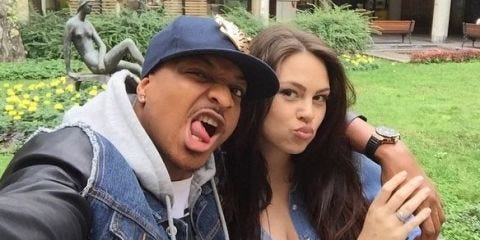 On being married to a Nigerian Igbo man: She ''I'm married to a Nigerian; an Igbo man to be precise. It's all about hispersonality and the love we share. Love helps one overcome every circumstances. Every human has issues, the good sides and bad sides, but if we understand ourselves, then we can live together as one. Sometimes, I get angry at women, because they believe that in marriage they are the only ones compromising. We have to learn to meet our partner's half-way. We shouldn't allow him to sacrifice everything. Women should learn to drop that belief. IK is a very lovely and selfless man. I knew I would end up with a Nigerian; Igbo man to be precise because my childhood friend is from Onitsha and she will always tell me 'na Igbo man go marry you oh'. I was just laughing, now she's the one laughing at me. Igbo men know how to take good care of their wives. I feel so proud and fulfilled that I choose to marry who I want and when I wanted. Love is blessing.''

On coping with the Nigerian culture and traditions: ''I don turn full naija babe oh (laughs). Well, I believe that if you come to a particular new place and environment, you have to bend down to learn.All you need do is take home the things you feel you like and also share the ones you have in you. I must confess, it has been a beautiful experience here in Nigeria.''

On the secret to her post -baby body: "Well, I never really gained a lot of weight when I was pregnant because I believe that women should work on their bodies during pregnancies not after.I eat healthy, I never used pregnancy as an excuse to over eat. I work out.I'm very health conscious, with the thought of my baby on my mind. Even the day of my delivery, I had 30 minutes' walk out. I take a lots of water. So I didn't get extra fat. If I eat too much, I won't feel good. Basically,it's all about self-discipline.
-----------------------------------------------------------------------------------------------